This is an announcement that our store will be closed for renovation following days.
We are very sorry for any inconvenience and thank you very much for your understanding.
June 29th (Thu) to July 6th (Thu) CLOSED
Dear Customers,
We'd like to introduce you to our newest member of stylist.
Rumi has joined our salon from today.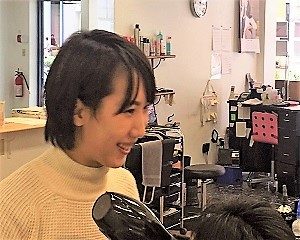 She will work part time in April and will work full time from May.
Please check her schedule from here.
Thank you.
Tsubaki Hair Express
Dear all customers,
Please check out our stylists schedule for May.
And there are some important notices below.
※Vacation Notices※
Oya is on vacation from May 4th(Thu) to 11th(Thu)
Nori is on vacation from May 16th(Tue) to 19th(Fri)
Extra day off: Yuka 21st(Sun), Ai 25th(Thu)
※ Notes ※
On May, Ai will work from 12.30 pm on weekday.
And Ai's last day is 31st May:(