Using straightening solution direct from Japan, our Tsubaki straightening service ensures our clients receive a high quality straightening option from Japanese-made products.
当店では、縮毛矯正の薬剤は日本から仕入れて いるのでに日本と同じ縮毛矯正サービスを受けることができます。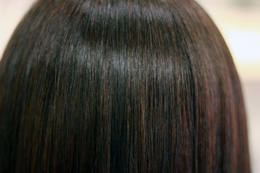 Pricing may vary depending on the menu combination of the services. Please ask our staff if you have any questions.
MEDIUM
8-12CM SHOULDER LENGTH
SEMI-LONG
BELOW THE COLLARBONES LENGTH
LONG
TOP-OF-BREAST LENGTH
SUPER LONG
BELOW THE BREAST LENGTH
*For all hair color services and Japanese Super Straightening, there will be an additional charge of $10-20 for blow-dry without a haircut service combined.
Short  — $10
Medium / Semi-Long — $15
Long / Super-Long — $20